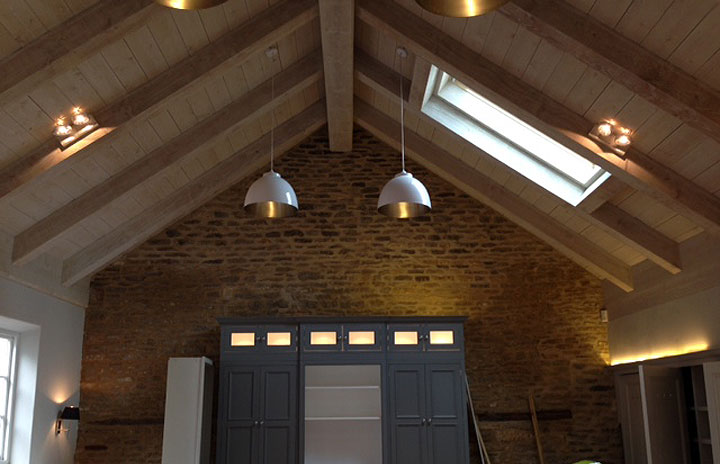 ELECTRICAL Our experienced and accredited electrical division provides:
DOMESTIC:
Extra Circuits, sockets, etc.
Periodic inspection reports
New build installations
Call outs and maintenance
Energy Management / V Phase
Rewires
Home Automation
COMMERCIAL:
Periodic inspection reports
New installations
Call outs and maintenance
PAT testing
Comms and Data wiring
Energy efficient Lighting systems
INDUSTRIAL:
Call outs and maintenance
Energy efficient Lighting systems
New installations
Extra Circuits, sockets, etc.
HOME AUTOMATION
We install home automation, where you can have 4 different lighting scenes for each room in your house controlled by either light controller remote control or from a smart phone or tablet.
This system can also operate blinds and even boilers so you can operate things when you are not at home, you can open and close your curtains from the other side of the world!
We can also install an audio system in your home which can link into this system which enables you from the same controllers or you smart phone to have your favourite music on in each room of your house whether you would like it to be different in every room or have your house In party mode with all the speakers playing the same music.

V-PHASE
How it works: By lowering and regulating the voltage in your home, typically to 220V, VPhase reduces the overall energy consumption of your home – reducing waste and saving you money. Most electrical appliances will even work more efficiently with less electricity and will cost less to run too!
The amount of energy saved is device specific, for example: testing by VPhase on fridges and freezers shows 17%, 15% on normal light bulbs and 10% on energy saving light bulbs. One digital cordless phone showed an extraordinary saving of 44%. Savings will vary dependent incoming voltage and individual devices.
Further savings can be made on washing machines, tumble driers, dishwashers, televisions and numerous other electrical appliances across the whole house.
Typically, whole house savings are in the region of up to 12% – which means household electricity bills will be around 10% less each year.