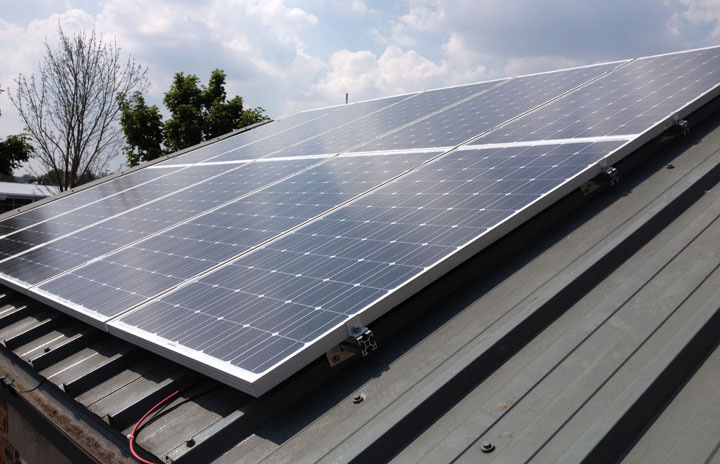 SOLAR P.V. Generate free, green electricity from sunlight!
Solar panel systems, also known as photovoltaic's (PV), capture the sun's energy using photovoltaic cells. These cells don't need direct sunlight to work – they can still generate some electricity on a cloudy day. The cells convert the sunlight into electricity, which can be used to run household appliances and lighting.
Solar P.V. has many benefits, including:
Solar electricity is 100% green and most importantly is 100% sustainable.
Renewable energy feed in tariff – UK government feed in tariff scheme for renewable energy provides a set rate of tax free income from U.K energy suppliers.
An average 4kw system equates to around £16,000 of totally tax free income over 20 years.
Save around 1700 kg of Co2 per year that's about 42 tonnes over its lifetime and reduce on average energy bills up to 60% per year.
You are paid for every unit of electricity that you generate, you even get paid the feed in tariff if you use all the electricity you produce.
If you don't use the electricity it is automatically exported back to the grid and you get paid an extra 4.5p for every unit. (Payments are received from your electricity provider).
Systems are quick to install self cleaning on pitched roofs and due to no moving parts there is no maintenance on small scale systems.
A 25 year performance guarantee on all panels.
You can also have an energy monitor supplied with your system which show you how much you are producing at any point in the day.
The feed in tariff will still give 7-10% on the annual investment which is way in advance of today's low interest rates of savings and other financial investments of this level.
Investment in solar p.v gives a better return than your building society
All FIT payments are index inked so can go up every year.